Podcast: Play in new window | Download (Duration: 13:17 — 18.2MB) | Embed
Subscribe: Apple Podcasts | Android | Email | Google Podcasts | RSS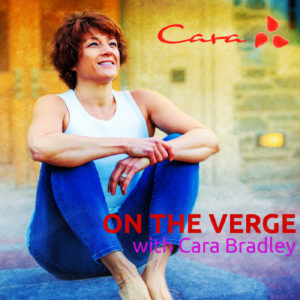 "Life is big," said Maya Angelou during a talk with Oprah. In this episode Cara talks about becoming a bigger container (ABC) as a way to experience the fullness of each moment. How we do that is up to us and changes constantly. Cara shares her experiences in the patterns and practices she's cultivating to tone her systems to hold  bigger life experiences.
---
Mentions and More:
Episode 31: What Are You Waiting For?
Episode 30: Do Three Things Really, Really Well
Read: Everyday Zen by Charlotte Joko Beck
Read: Stealing Fire by Steven Kotler and Jamie Wheal
Check out the my book On The Verge: Wake Up, Show Up, and Shine and on the free On The Verge app iTunes and Google Play.