Podcast: Play in new window | Download (Duration: 16:14 — 22.3MB) | Embed
Subscribe: Apple Podcasts | Android | Email | Google Podcasts | RSS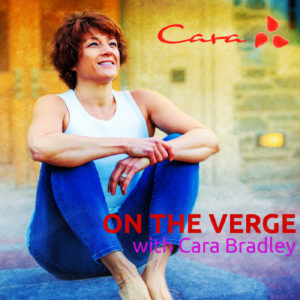 Can you be nimble? Are willing to shift perspective? How do you pivot? In this episode Cara talks about being flexible, staying astute, and choosing our state. She describes being nimble as a practice of seeing and how being available to shimmy in any moment opens us to multiple opportunities in any moment. This episode is packed with encouragement and real life examples of how to pivot, open your mind to possibilities and continue moving in the direction of your desires.
Mentions and More:
Episode 44: Be a Firehose
Episode 43: Force, Fix. Flee.
Episode 41: Get Out of the Mud
Episode 40: You are not stuck
Episode 32: Becoming a Bigger Container
Episode 32: Jumping Patterns
Episode 25: What's working? What's not?
On The Verge app iTunes and Google Play.
Check out the my book On The Verge: Wake Up, Show Up, and Shine 
Please review my podcast on iTunes and help more people find their way to living on the verge!