Podcast: Play in new window | Download (Duration: 11:37 — 16.0MB) | Embed
Subscribe: Apple Podcasts | Android | Email | Google Podcasts | RSS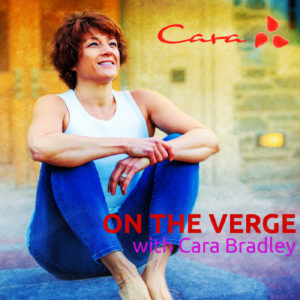 Do you allow yourself to pause to take in the moment? Are you missing opportunities to experience the brilliance of life streaming both around and within you? In this episode Cara describes the essence of why she teaches. It's called soul force —the intelligence moving through each of us in every moment. Our soul force inspires us to connect, empowers us to create and drives our actions and words. Don't let the busyness of life keep you from discovering your soul force.
Mentions and More:
THE SWITCH – January 24, The Kimmel Center, Philadelphia
Episode 65: After the Holidays… really?
Episode 19: I See Your Brillance
We are just walking each other home – Ram Dass
---
Join Me on Retreat!
Jan 27-Feb 2 Big Life 2018 – Tulum, Mexico
On The Verge app iTunes and Google Play.
Check out the my book On The Verge: Wake Up, Show Up, and Shine 
Please review my podcast on iTunes and help more people find their way to living on the verge!
SaveSave
SaveSave
SaveSave
SaveSave