Podcast: Play in new window | Download (Duration: 11:48 — 16.2MB) | Embed
Subscribe: Apple Podcasts | Android | Email | Google Podcasts | RSS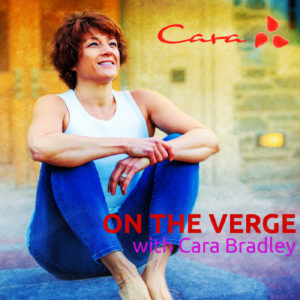 Doesn't it feel amazing to really connect with another human? Not just a fly-by connection, but a real, honest human connection. True intimacy happens when we stop trying to be so efficient and slow ourselves down long enough to meet one another — at the human level. In this episode Cara shares her curiosity with being knee-t0-knee with others. She explores how to both notice and create opportunities to have real human connection every day.
Mentions and More:
THE SWITCH – January 24, The Kimmel Center, Philadelphia
Episode 64: Costs Nothing. Goes a Long Way
Episode 65: After the Holidays… really?
Episode 63: Move the Ball Forward
---
Join Me on Retreat!
Jan 27-Feb 2 Big Life 2018 – Tulum, Mexico
On The Verge app iTunes and Google Play.
Check out the my book On The Verge: Wake Up, Show Up, and Shine 
Please review my podcast on iTunes and help more people find their way to living on the verge!
SaveSave
SaveSave
SaveSave
SaveSave
SaveSave
SaveSave
SaveSave
SaveSave
SaveSave
SaveSave
SaveSave