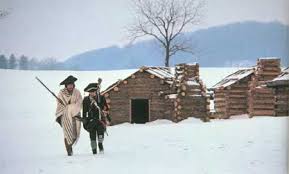 My neighborhood sits alongside Valley Forge National Historical Park, the land marking the turning point of the Revolutionary War. Hidden in the woods, there' s a small memorial stone dedicated to the soldiers who encamped there through the historic cold winter of 1777–1778. It reads: "To those who fought for freedom, dignity, and the beginning of a new nation."
Thousands of young soldiers died that winter. The few who survived strengthened their resolve, heroically reorganized, and inspired the Continental Army, who later went on to defeat the British and win independence. The future of the United States of America shifted during the winter at Valley Forge when those left standing knew they stood on a threshold and had to make a choice. They could throw in the towel and go back to living under British rule, allowing a distant foreign influence to continue to direct their lives, or they could lean into the possibility of a new way of living. They leaned. Under the leadership of George Washington, the Continental Army showed up and shined.
And the rest, they say, is history.
Living on the Verge
There' s a gap, a split second of time when you're not quite in the past and not quite in the future. You're on a threshold — you are on the verge. Right here, this exact moment, you have a choice, to retreat back into over-doing and over-thinking or to pause, lift your gaze, and take a look at your life.
You can remain asleep in your busy mind or wake up to the brilliance around you. You can stay locked in your thoughts consumed by stuff to do and places to be, or you can show up and shine.
In every moment, the decision is yours to make: speed right by precious moments, or participate in your life. In every moment you are invited to begin anew and lean into your life just as it is.
I believe you have the capacity to wake up right now, to stand on the threshold between a moment ago and a moment from now. I believe you can show up and shine, and like the soldiers at Valley Forge, you can choose to be free.
—————————-
Cara Bradley's On the Verge: Wake Up, Show Up, and Shine is available on Amazon and Barnes & Noble. Download the free On the Verge app with supporting audio and video practices.