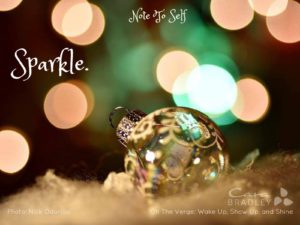 The holiday season is well underway. How are you doing? If you felt "crazy busy" before December arrived you're probably feeling crazy-crazy busy now.
Ironically, in order to have the stamina to keep up and enjoy the season of light we need to do the complete opposite. We need to slow down and come to a full stop.
We need to pause.
Do you know how to pause? I didn't. I had to remind myself how to be still. Here a few simple ways that have been helpful to me. Try one or all of these tips to incorporate stillness into your day.
Notice nature
Maybe all you can see right now are holiday decorations and your to-do lists, however, nature is beckoning to be noticed. Shift your focus from time to time to gaze at the beauty around you. Gaze up at the sky and take a few breaths. Look at the trees or the horizon. Notice the sun rising or setting. A few minutes to take in nature is a simple restorative practice.
Use transitions
While your days are full, there are natural transitions built in that are perfect for pausing. Take those short moments between tasks. Use those moments to pause fully, to do nothing, to be still. For example, sit still for a few minutes in your car before transitioning to your office or home. Pause before getting out of bed in the morning and before and after eating. Become aware of transitions and you'll find more opportunities to be still.
Close your eyes
From time to time throughout the day close your eyes for three to five breaths. Doing so will help you unplug, get quiet, and be still. It creates a gap in time to directly experience your life right now.
It is challenging to pause during this excessively busy time of year. Incorporating small doses of stillness throughout your day—whether it is the holiday season or not—is essential to your wellbeing.
Learn to pause more often. That means to do nothing. When your body is still your mind becomes still. It's that simple. Stillness settles your nervous system, which then reduces stress and kindles vitality.
The greatest gift you can give yourself (and the world) this holiday season is not more stuff.
The greatest gift you can give yourself is time to pause in stillness.
You'll be grateful you did.
———
I talk more about the practices and strategies to shift beyond your busy mind in my book On The Verge: Wake up, Show up, and Shine and on my weekly podcasts.
SaveSave
SaveSave
SaveSave
SaveSaveSaveSaveSaveSave
SaveSave
SaveSave
SaveSave
SaveSave
SaveSave
SaveSave
SaveSave
SaveSave
SaveSave
SaveSave