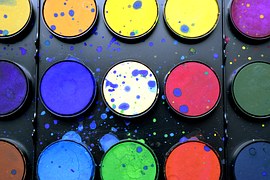 The shift from summer to fall is officially happening. I am ridiculously busy right now (and my kids are out of the house!). I'm sure you're nodding your head; you get how chaotic crazy busy can feel.
The cool thing I noticed, however, is that my days are so freakin' jam-packed that I have no time to freak out. I literally don't have the emotional bandwidth to worry. As a result, I'm really present. I have to be. I've got loads of projects in the works.
I'm recording a series of mediations for athletes for Meditation Studio App.  I'm also filming a series of moving meditations for Mindful Magazine. (Promise to share soon!) Plus I am doing some super fun stuff at Verge Yoga and for local schools and sports teams this month.
Okay, my little digression is over. Back to the chaos…
Right now there's no room for me to doubt myself. It feels kind of weird to simply not doubt myself. I also have no energy to judge myself (or anyone else either). I find myself saying "oh whatever" over and over. No doubt and no judgment. Maybe being crazy busy isn't such a bad thing? Have you ever felt this way?
So, how am I surviving (or thriving) in the midst of this chaotic transition? I made a commitment to myself to do three simple but very important activities every day, and there's absolutely no negotiation right now. I must do these three things! No skipping out or making excuses about not having time. I'm so set on following through that I almost went as far as to write these "must do's" on my hand like a second grader!
These three things must happen every day:
1. Move my body. I have to do something to get my butt off the chair every single solitary day, even if it's a 15-minute walk around the block at 9:00 PM. I don't care what activity I do or what I look like. – Movement is essential because it chills me out and settles me down.
2. Find silence. I get overwhelmed when I'm around people and/or noise for too long. My head goes to mush, and I can't see straight. I actually start dissolving like the Wicked Witch of the West. There's no debating it. I must STOP everything and take 15 minutes on my deck, on my chair, on the grass. No books, no TV, no phone. Just silence.
3. Hydrate. Boy, I have been thirsty lately. When I'm super busy I forget to drink. Funny, somehow I never forget to eat. I have to remind myself to drink, drink, drink (water that is).
These three simple must do's keep my body and mind functioning as I transition through the chaos of early fall and bust my butt to complete projects and set my sights on the next batch of deadlines coming. What do you do to survive your crazy busy life? I'd love to know.