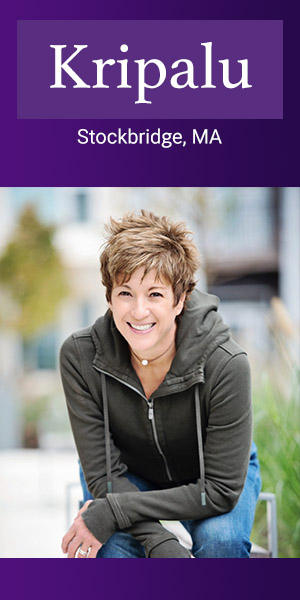 Kripalu Retreat
Harness the Power of Flow Sunday, April 28 – Tuesday, April 30, 2019
Human beings thrive best when present in the moment. When you can be here now in both mind and body, you experience flow—heightened states of awareness in action where one thinks less, feels more, and performs better. Elite athletes, master artists, and great innovators know how to live in flow—and so can you.
Join body-mind teacher, author, and former pro-skater Cara Bradley to find out what being in flow feels like and explore the neurobiology of optimal states. You will learn new ways to integrate yoga, meditation, and nature that empower you to get out of your head and ease into flow at work and at play.
During this mini-retreat you will:
Practice yoga to build stability and agility
Meditate to cultivate clarity and calm
Hike in the woods and turn up your senses
Explore optimal states of flow
Meet awesome people
Your fitness routine and meditation practice will never be the same. Return home with dozens of tools and strategies to access the power of flow.
April 24, 2019

Designing Your Workday Around Flow

April 24, 2019 12:00 pm - 2:00 pm
Philadelphia YMCA

Workplace Well-Being Series

April 28, 2019

Kripalu Mini-Retreat: Harness The Power Of Flow

April 28, 2019 - April 30, 2019
Kripalu Center, Stockbridge, MA

May 1, 2019

Designing Your Workday Around Flow

May 1, 2019 12:00 pm - 2:00 pm
Philadelphia YMCA

Workplace Well-Being Series

May 3, 2019

Verge Yoga Flow Teacher Training

May 3, 2019 - May 5, 2019
Verge Yoga Wayne, PA

May 6, 2019

Cristo Rey: Design Your Life Around Flow

May 6, 2019 10:00 am - 12:00 pm
Bryn Mawr, PA

May 8, 2019

Designing Your Workday Around Flow

May 8, 2019 12:00 pm - 2:00 pm
Philadelphia YMCA

Workplace Well-Being Series

May 14, 2019

Workshop: Wake up, Show up and Shine

May 14, 2019 10:30 am - 1:30 pm
Mickleton, NJ

August 6, 2019

Guardian Life Insurance Women's Leadership Retreat

August 6, 2019 - August 7, 2019
Savannah, GA

November 15, 2019

Mindful Leadership Summit

November 15, 2019 - November 17, 2019
Washington, DC