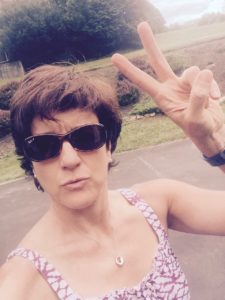 My last blog post, "Goodbye Careful Cara," caught me by surprise. My public declaration about finally mustering up the courage to leave behind my false persona of pleasing and perfecting turned out to be a common thread and connector to many of you.
Not only did your comments and emails cheer me on as I fearlessly step into a new arena, but you also shared the ways that you, too, hold back, play small, and mute your voice. So many of you expressed how you can no longer ignore the gnawing feeling that you are not living fully.
You all literally blew me away with your honesty.
I am so inspired by your fierceness to reach out that I feel compelled to write a follow-up — a next step for those of us ready to jump.
So if you sensed a stirring in your gut when you read "Goodbye Careful Cara," if you nodded your head even one time, I hope you'll join me in shedding the careful and embracing a bolder, more truthful way of living.
I've come up with a few reminders to help us remember.
Being careful feels small and awkward.
Being small and invisible serves no one.
Holding back is exhausting.
Being honest feels open and clean.
Sharing our enthusiasm is infectious.
Declaring our dreams inspires others to declare theirs.
Sometimes rocking the boat is necessary.
Being courageous is liberating.
We can do this. I know we can. Let's stay vigilant to how we move through the world and notice when we want to shrink back. The excitement is building. I still have no idea what leaving behind Careful Cara looks like, what I will say or do in even the next minute. I'm truly on the verge of an entirely new way of being, and I have to tell you that I'm shaking in my boots. How about you?
———
If you have any of your own reminders, ways to that help you notice when you're holding back or how to show up and shine, please share by commenting or emailing me. Peace.