Podcast: Play in new window | Download (Duration: 12:36 — 17.3MB) | Embed
Subscribe: Google Podcasts | Email | RSS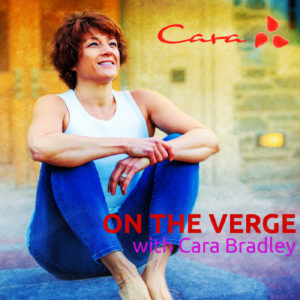 "The greatest gift you can give the world is a fully healthy you." This episode is a call to action — a call to amplify your commitment to self-care. Cara reminds you that your wellbeing must be your number one priority. She asks you to admit where you're not balanced, stable, clear, and steady in your life. What are you resisting? Where are you leaking energy? Where are you not functioning at the highest level? Where are you holding negativity? Cara is on a roll this week reminding you that now is your time to step up and be a positive fire hose of life force for the world by committing to being the most fully healthy you possible.
Mentions and More:
Episode 35: Where Do You Live?
Blog: Is Your Own House Clean?
Caroline Myss at myss.com
The Tao of Leadership by John Heider
On The Verge app iTunes and Google Play.
Check out the my book On The Verge: Wake Up, Show Up, and Shine 
Please review my podcast on iTunes and help more people find their way to living on the verge!