Podcast: Play in new window | Download (Duration: 11:24 — 15.7MB) | Embed
Subscribe: Apple Podcasts | Android | Email | Google Podcasts | RSS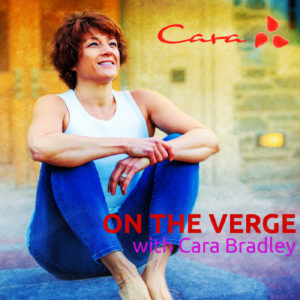 It's not until we change perspective that we're able to see where we've been closed off to experiencing the joy of being fully alive. In this episode Cara talks about a recent moment of awakening—a moment when she felt as though she'd lifted her head out of the sand. In a flash, she saw how she'd been shut down in silence, closed off from music, dancing and laughter for eight years. In telling her story she hopes to stir something in you. Cara asks you to contemplate where in your life you're shut down and emphasizes how it's our birthright to consistently experience ecstatic joy and lightness of being.
Mentions and More:
Episode 44: Be a Firehose
Episode 3: Being Fully Alive
—————————————-
Join Me on Retreat this Fall
Sep 8-10 Omega Institute – Rhinebeck, NY
Oct 1 -Oct 6 La Bella Vita – Abruzzo, Italy
On The Verge app iTunes and Google Play.
Check out the my book On The Verge: Wake Up, Show Up, and Shine 
Please review my podcast on iTunes and help more people find their way to living on the verge!